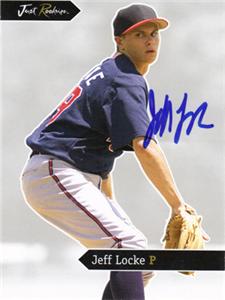 Jeff Locke, who was a big part of Appalachian League Champion Danville Braves this past season, was kind enough to answer a few questions for Chop-n-Change. For those of you who don't know, Locke is a left-handed pitcher who the Braves took in the second round (51st overall) of the 2006 draft. He was recently rated the eleventh best Atlanta prospect by
Baseball Prospectus
and
John Sickels
, and the eighth best by
Baseball America
. Without further adieu, here is the Jeff Locke Q&A.
Q:
How much do you pay attention to your stats?
A:
Believe it or not I am not a huge stat guy. I do follow my stats but I do not look at them religiously. As long as I am pitching well in the season my stats will take care of themselves.
Q:
Who (coach, teammate, etc.) has been the biggest help to you so far in your pro career?
A:
Kent Willis [Braves Minor League Pitching Coordinator]. He has been there for me through ups and downs my first two seasons and helped me to correct everything that has needed attention. Other then that Derrick Lewis my pitching coast from the Gulf Coast League has done a lot of work with me as well.
Q:
Give us a scouting report on Jeff Locke. What pitches do you throw? What are your strengths? Weaknesses?
A:
I throw the generic three pitches. Fastball, changeup, and curve. As for strengths I would say I have good control. I do not walk a lot of batters, which helps to keep me in games longer. Sometimes last summer I would try and strike people out which would raise my pitch count and I would not be in games as long as I wanted to be. As for weaknesses I'd say that I need some help on being consistent with my changeup. The changeup is a very important pitch in baseball and without that it's really tough to make it as a starting pitcher.
Q:
When the Braves took you in the second round, the knock on you was inconsistent secondary pitches. What steps have you taken to improve and how far have you come in that area since being drafted?
A:
Like I just said, I need to work on my changeup a little bit more but as for my curveball, things have shown big time improvements with that. I feel incredibly comfortable throwing that pitch in any count. Back in high school I had really no off speed pitches at all. Those have come a long way.
Q:
Do you pay attention to your pitch count during the game or your total innings over the course of the season?
A:
I do not pay attention to my pitch count during the game. If you start walking guys, obviously your pitch count tends to be higher. Throughout high school, I never threw a lot of innings in a season. Being from New Hampshire we don't play a lot of games. I think I threw 120 innings in four years of high school. Now I'm going to be asked to throw 120 in a season.
Q:
Do you pay attention to what places like Baseball Prospectus or Baseball America say about you or where they rank you?
A:
Some guys do, some guys don't. I read what they say about me but I don't go out o f my way to read about what people say about me. As a professional athlete there are going to be people that like you and people that hate you. That just comes with territory.
Q:
You got to play with Jason Heyward a little bit at the end of the year. What was your impression of him on and off the field?
A:
Jason is a remarkable athlete. He has the type of body that could have made him a professional at any sport. He works incredibly hard at what he does and it shows in his performance.
Q:
Which hitter that you've played against is your least favorite to pitch to?
A:
There are no hitters that I really fear or have a terribly hard time against. Luckily for me, the two best hitters I've ever had to face were both on my team: Cody Johnson and Jason Hayward. I faced them both in live batting practices. I'm lucky to have guys like that behind me in the offense then hitting against me.
Q:
What is the best part of playing minor league baseball and conversely, what is the worst part of playing minor league baseball?
A:
The best part has to be being able to play everyday. When you are pitching well it seems like there is nothing bad about the minor leagues at all. When you are not pitching so well, long bus rides are no fun and either are hot days. Being from the cold I am not used to the 90 degree weather that I sometimes have to throw in.
Q:
Are players normal fans of the game as well? Do they read the blogs, watch games, and play fantasy baseball like the "average Joe"?
A:
Yes. Baseball players are just as much "average Joe's" as they are themselves. I read the blogs, play fantasy baseball, and follow all of Major League Baseball. I would like to once again thank Jeff for taking the time to answer these questions for me and wish him the best of luck on the upcoming season.