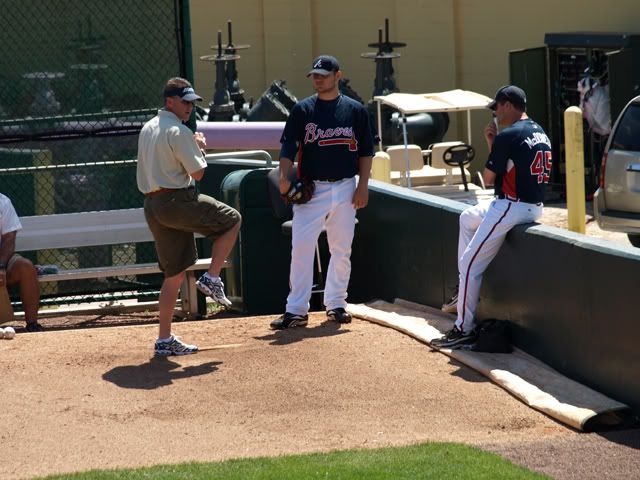 The veteran left-hander took up a familiar position, toeing the rubber of the pen mound. He proceeded to go through several different pitching motions, all the while talking to Reyes and imparting some of the knowledge that he has acquired throughout his 22 years in the majors. Jo-Jo, who has struggled with his control this spring, stood with his hands at his side, looking eager to soak up any experience that the 300-game winner had to offer. McDowell, who by now had taken up Glavine's old spot on the bullpen wall, sat with his right hand on his chin, looking just as interested in learning from the future hall-of-famer as Reyes.
This is just one example of a return that Frank Wren and the Braves could see from their $8 million investment in Glavine, not manifested in their new (sort of) starter's 2008 stats. This willingness to take a young player under his wing could be a benefit to the organization that lasts long after Glavine chooses to hang up his spikes. It seems like almost every established major league star has at least one veteran player who they pay homage to in interviews for mentoring them when they were just breaking into the big leagues. The effect of this isn't a measurable commodity, but its effect can be huge for a young player transitioning from double or triple-A to facing major league competition. The Braves have under their control, two talented southpaws in Reyes and Chuck James, who have enjoyed great successes in the minors and have both had their share of struggles in the majors. The real question now is what kind of effect Glavine can have on James, Reyes, and the other youngsters on Atlanta's pitching staff. He's certainly the right kind of pitcher to have a positive impact. Aside from being headed to Cooperstown after he retires, Glavine has had to rely on his ability to pitch to get him to the 300-win plateau. While other greats have had arsenals which could blow away even the most skilled hitters, Glavine has primarily turned to an average fastball and great changeup as well as his control and pitching ability to bring him his Cy Young and numerous other awards Will James and Reyes reach their ultimate potential? No one can say with any certainty right now, but with Glavine (and I hope both Smoltz and Hudson) almost acting as another pitching Coach, and McDowell -- who I believe has turned out to be quite a good replacement for the now unemployed Leo Mazzone -- behind them, I think they've been given a great supporting cast to take that next big step in their development. That's a value that can't be quantified.

Three men surrounded Jo-Jo Reyes this past Friday, watching intently as the young southpaw got some bullpen work in during Atlanta's game against the Cleveland Indians. To his right was pitching Coach Roger McDowell and bullpen Coach Eddie Perez, and to his left was a less-expected observer. Perched atop the short bullpen wall and dressed as though he was about to go play a round of golf (and it wouldn't be a surprise if he was) was a familiar face; veteran starter Tom Glavine. Glavine sat there, rarely looking away, and watched as Reyes threw for around ten minutes. He remained generally quiet, only chiming in with a couple of words every now and then. As Reyes wrapped up his session, both McDowell and Glavine moved in, and the three stood huddled on the bullpen mound. Glavine began to speak as both McDowell and now Reyes, watched and listened closely.