Terry Pendleton and the Braves offense.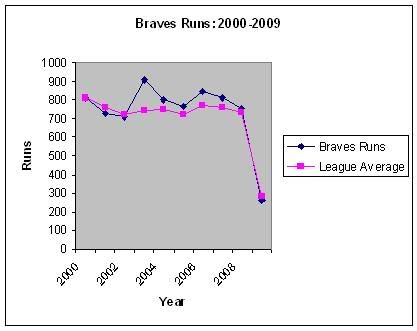 As you can tell by looking at the chart, the Braves scored a league average amount of runs before Pendleton arrived and during his first year, and then exploded to a level above the league average for the next 5 years, while staying slightly above average last season, and dropping to a little below average this year. Hits score runs, so nothing about the amount of runs scored screams BAD HITTING. Next up, the walks...the major point of contention for the anti-Pendleton crowd.
Pretty much league average the entire time of Pendleton's tenure, with the exception of jumps upward in 2004 and 2008. Even with the team's struggles this season, the team is pretty close to the league standard. How about home runs? Pendleton was never a big bomber, those have to have dropped off, right?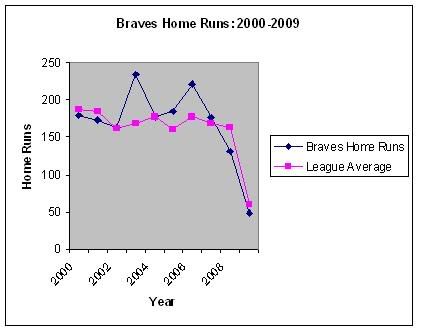 Aside from this year and last, nothing doing for the negative crowd. The Braves have been well above the league average for most of Pendleton's tenure. And the dropoff over the past 2 years can largely be blamed on the front office having one corner player (infield and outfield) on the roster who can hit 20 homers in a year. Can't blame TP when you're dealing with contact fearers like the right fielder, gap power like Kotchman & Diaz, or slap hitters like Blanco & Anderson. Alright, OPS. This has to be a win for the negative nancies, right? We're going to look at a RATE STAT. Rate stats are the bomb (in Phantoms, yo)! This is going to make all of us right and make Joe and the Braves front office look like total goobers. I'm sure of it.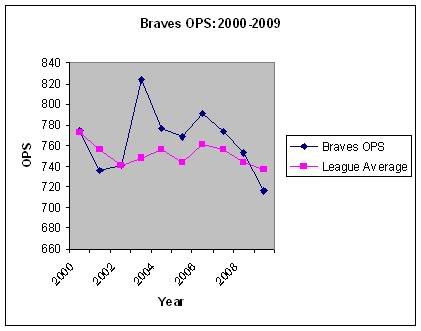 ...thats just not right man. With the exception of this season, the Braves have been VERY solidly above average for the last 5 years. Most of the numbers have been dropping off over the past 2 or 3 years, due to the sale of the Braves to Liberty Media and the refusal to add any significant payroll. Pendleton doesn't have a lot to work with in Atlanta anymore. The days of him getting awesome career years out of players like JD Drew and Gary Sheffield are over, and instead of being able to augment great talent like that, Pendleton is instead forced to try to coax miracles out of players who are not very good. Terry Pendleton is not a miracle worker. He is a hitting coach. If Merv Rettenmund or Don Baylor was still in charge of this team's offense, those final data points you see would likely be lower than they are. There are many people you can blame for this team's offensive struggles. Terry Pendleton is not one of them.

Alright, so lately, with the offensive struggles of the Braves and the seeming refusal to take pitches (I'm looking at you...eh, most of the team), people are looking for a scapegoat, and the most common scapegoat is hitting coach Terry Pendleton. People seem to think TP is a horrible hitting coach because of the fact that he didn't take a whole lot of walks as a player. This isn't necessarily the case, as while TP's walk rates in his career were LOW, they weren't abysmally bad like the right fielder's...and TP didn't strike out a whole lot either, which helped balance things out (career BB:K: 0.40. Not great, but not horrible either). So everyone does their whining and their complaining and doesn't bother to realize that this is Pendleton's EIGHTH YEAR as the Braves hitting coach, so something must be going right, huh? So lets take a look at some pretty pictures and see what the deal with Terry Pendleton is. So I don't have to explain it every time, let me explain some things in these graphs. The graphs go from 2000 to 2009. Pendleton became Braves hitting coach in 2002, so the first 2 data points in each graph are a barometer of how the team was doing before Pendleton arrived. The blue line represents the Braves total during that year, while the pink line represents the league average during that year. First, we're going to look at the Braves total runs scored.