Braves (Royals?) Win Game 2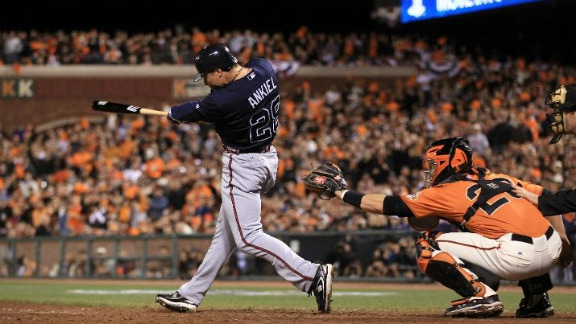 Photo courtesy of Getty Images.
In the grand - i.e. it's happened three times here now - tradition of one picture summing up the game, here's Rick Ankiel launching a bomb into McCovey Cove. You'd be hard-pressed to find a baseball fan who thought the Braves had so much as a puncher's chance after giving up the three-run homer in the first inning, let alone after Matt Cain drove in an insurance run, yet one of the unlikeliest possible heroes came through in extra innings to give the Braves the nearly-impossible win.
And how about Kyle Farnsworth! Who'd have thought he could be useful?
And Troy Glaus! What a double play!
Ahhh....I still get excited thinking about the game. Hopefully those Sunday reds will bring more good luck.